Regular price
Sale price
$20.00 USD
Unit price
per
Sale
Sold out
Tested on the Colorado River under the most extreme conditions. Result - 100% success! Take the New JYARZ Classic with you on your next adventure and it'll stand up to all the extremes you throw at it.
The New JYARZ Classic features:



NEW more rugged design


NEW 3x odor blocking system, unique to JYARZ (O-ring seals in the freshness where the cap meets the bottle)


Glass-lined - with thick glass is most beautiful material in the world


Eco-consciousness that will make you feel good inside


JYARZ unique 
TripleBlock™
 design offers three layers of freshness, enhancing  dankness odor control:







A new silicone o-ring (Child Proof Cap version) creates a seal is formed where the exterior cap and shell meet. Because this first seal is formed outside the threads, the entire container and its contents can be submerged in hot soapy water...clean it "cap-to-base" in seconds.


A thick silicone gasket inside the cap, forms the second airtight seal where it meets the inner glass core. Each and every JYAR provides you with 3 layers of odor and freshness enhancing protection!


The outer shell and cap are made of recycled HPDE plastic which has a waxy and slick, smelly substances don't readily adhere to it.


Add a new silicone sleeve to add color, strain labels and an additional layer of shock absorbing protection.Outside Dimensions: 3'' Tall by 1 1/4'' Wide (at top/widest)







Volume: 1.25 Fl Ounces (Approx. 3 Gram capacity )
Share
View full details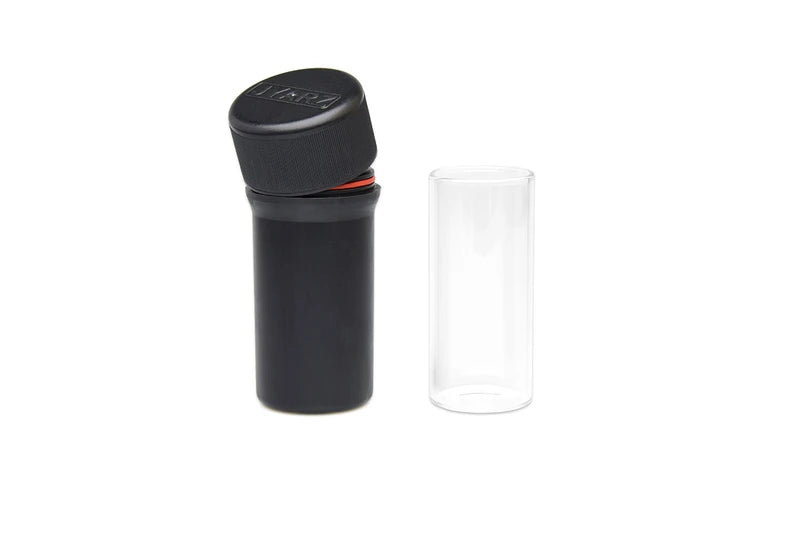 Simply Sophisticated.
The Simrell Collection strives to fuse art with function without compromises.
Our products are built from medical grade titanium, with a philosophy of "simple sophistication." Expertly crafted with the consumer in mind.
The Vortex System
Our patented Vortex System has been thoughtfully designed to give you the most control of your airflow, while delivering a smooth, cool vapor experience.
Build Your Own
Free Shipping

Worldwide Shipping is on me with orders over $125

Designed & Manufactured in the USA

Made in-house and produced in small quantities for optimum quality control.

Patented Technology

Enjoy peace of mind with our satisfaction guarantee on our Patented Vortex cooling system and sleek modern design.