Regular price
$200.00 USD
Regular price
Sale price
$200.00 USD
Unit price
per
Sale
Sold out
Nemo, an accomplished artist based in California, channels his remarkable talent into crafting captivating art pieces that gracefully extend into the world of Dynavap. With his distinctive designs, Nemo offers an artisanal touch to enhance your Simrell Vortex, MVS, or OEM Dynavap Stem storage experience. Embrace the refined elegance of Nemo's creations, adding a touch of sophistication to your Dynavap setup.
The Flask is nearly identical to its sibling the Flintlock, but does not include a built in lighter.  In its place you'll find a two sided chamber, one half for herb, the other half has a cleaning pick to capture ash/ABV.  The unique magnetic lid design ensures that the unit remains open or closed as desired, and minimizes spills.  The outer magnetic surface can be used as a heat sink for quick cool downs.  It also is a handy way to hold your cap during refills.  The underside of the magnet also functions to keep your cap "stuck" to the lid and prevent your stem rattling around in the tube (works best with current "captive cap" units).  The tube is lined with oven parchment paper to protect anodized and other delicate surfaced stems.  Perhaps most importantly, the lid is really fun to play to with!  It clicks!  You can't stop playing with it!

When laid on its side, the Flask also serves as a rest to keep your stem from rolling away between sessions.

Each unit is meticulously assembled, silver soldered, and polished by hand, by me, in the USA.  For this reason each piece is slightly unique.  They are shipped with a bright finish that will patina quickly with use.  To bring back the shine, I recommend a quick rub down with Flitz brand polish.

The Flask comes in two sizes, Small and Large.  The only difference is the length of the unit.

–Small size can accommodate any stem up to 3.75" (95.23mm) long by .52" (13.21mm) wide (essentially Dynavap model "M" or similar length, with width for FMJ cap).  Get this model if you want the most pocketable option.

–Large size can accommodate any stem up to 4.51" (114.56mm) long by .52" (13.21mm) wide.  Because of the magnetic attraction in the lid, you can easily store a short stem like the "M" or something much larger like the Simrell MVS.  Get this model if you've got an extra 3/4 of an inch in your pocket and want to carry more material.
Share
View full details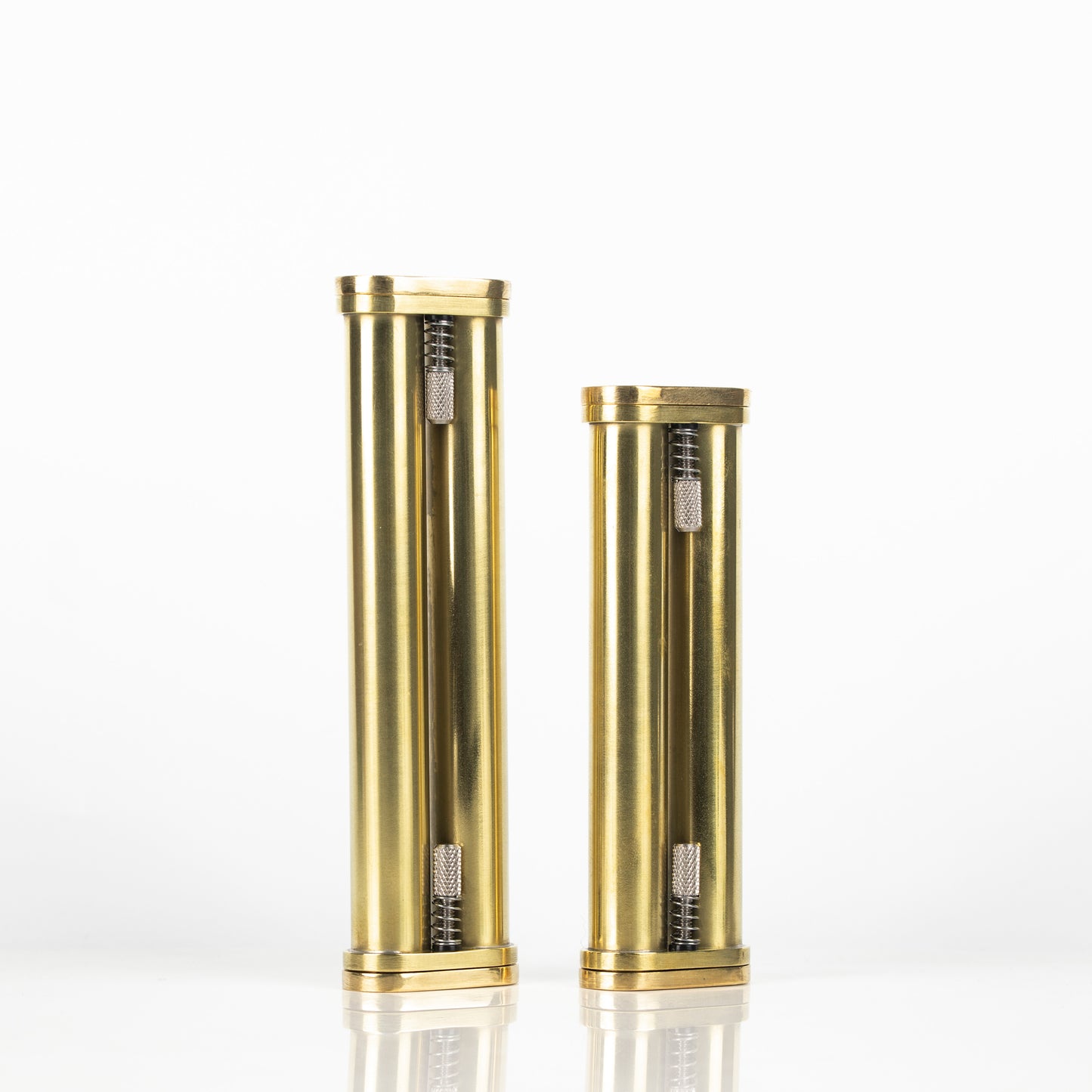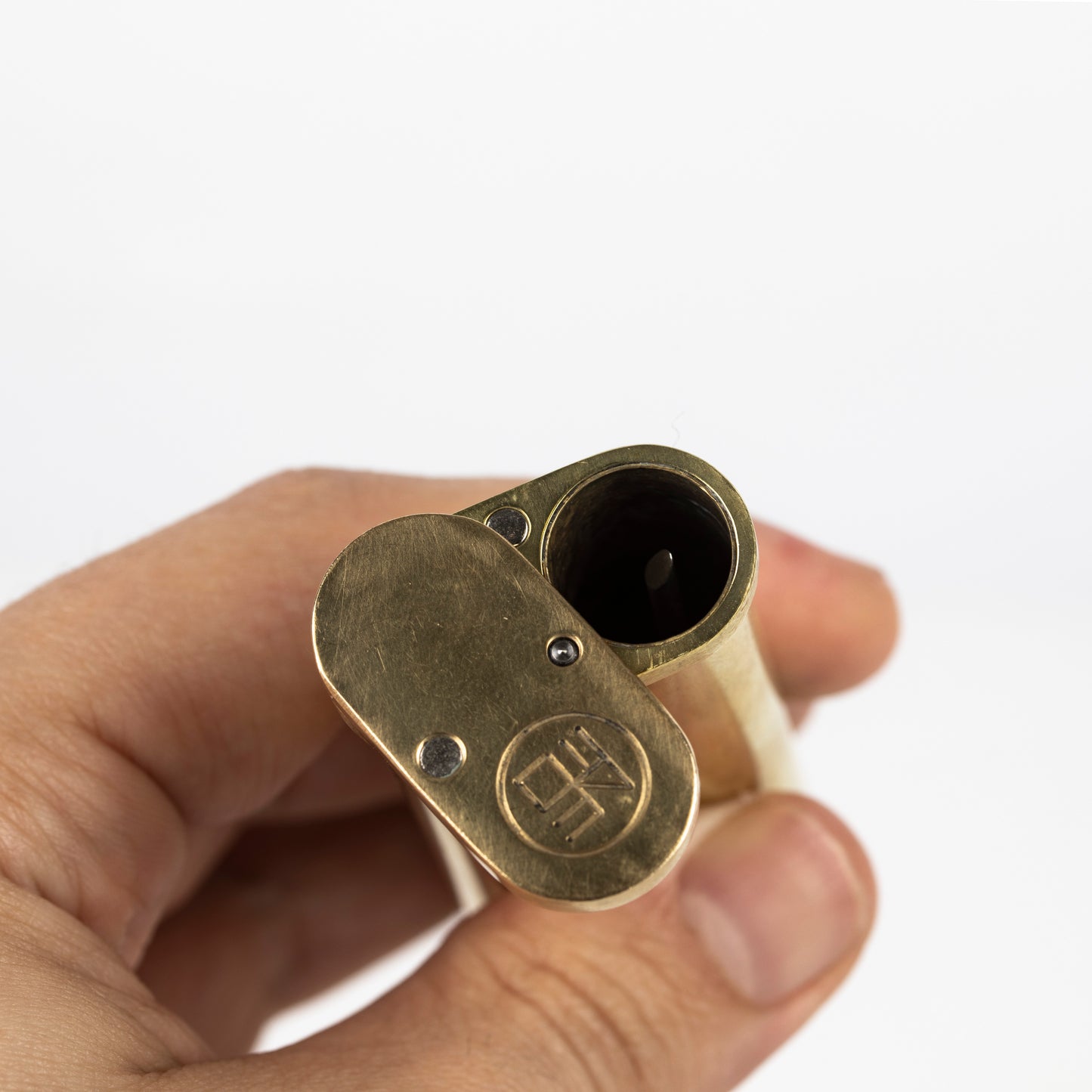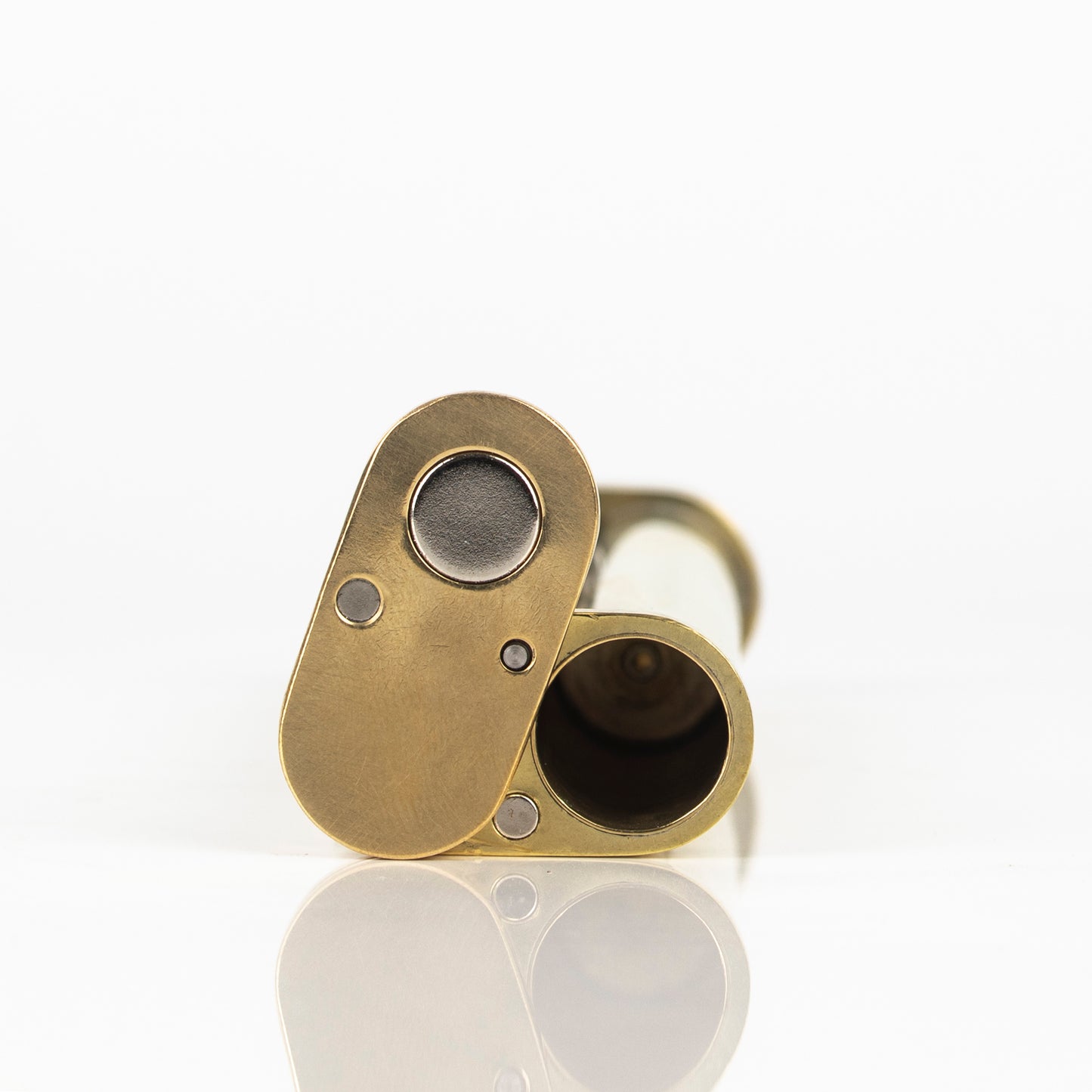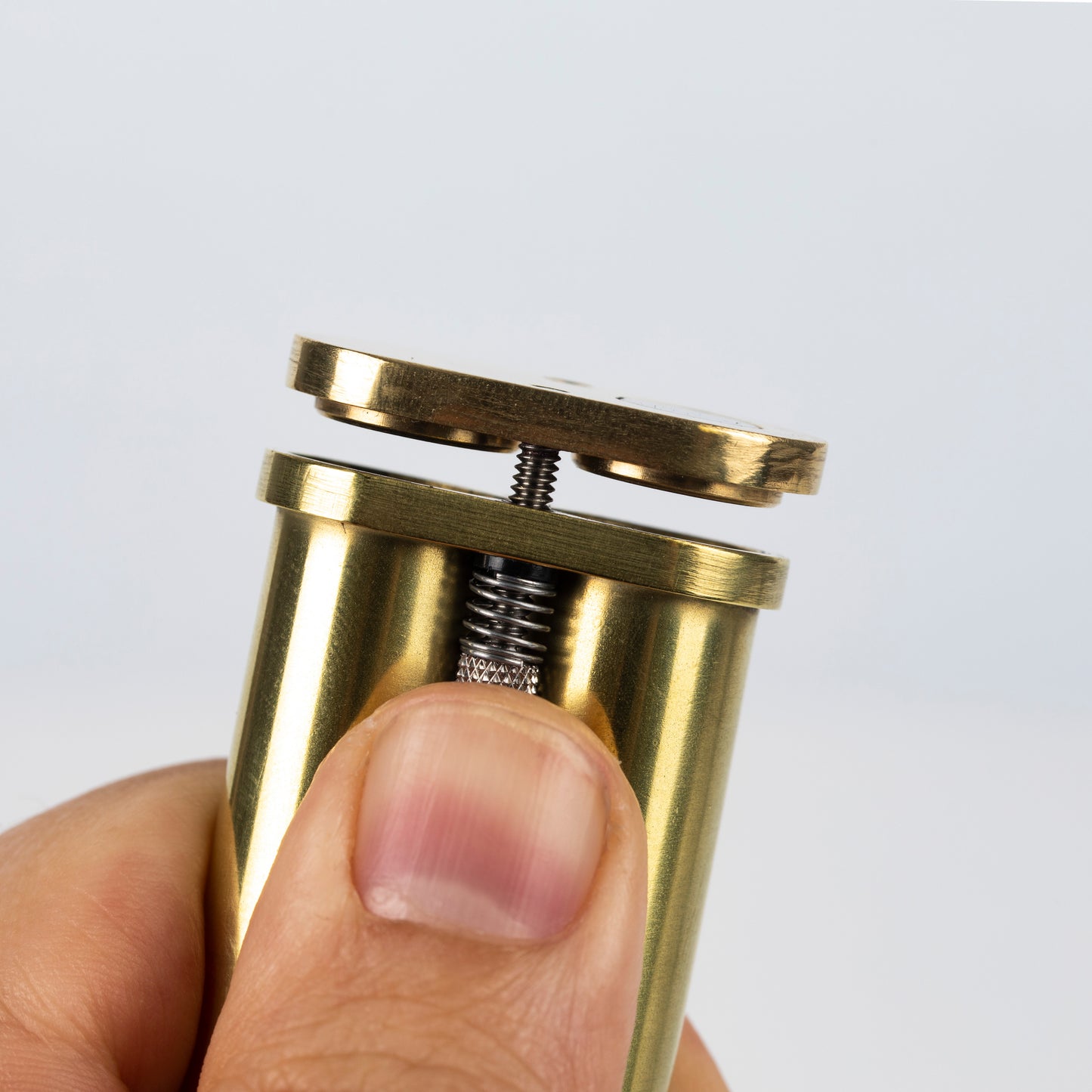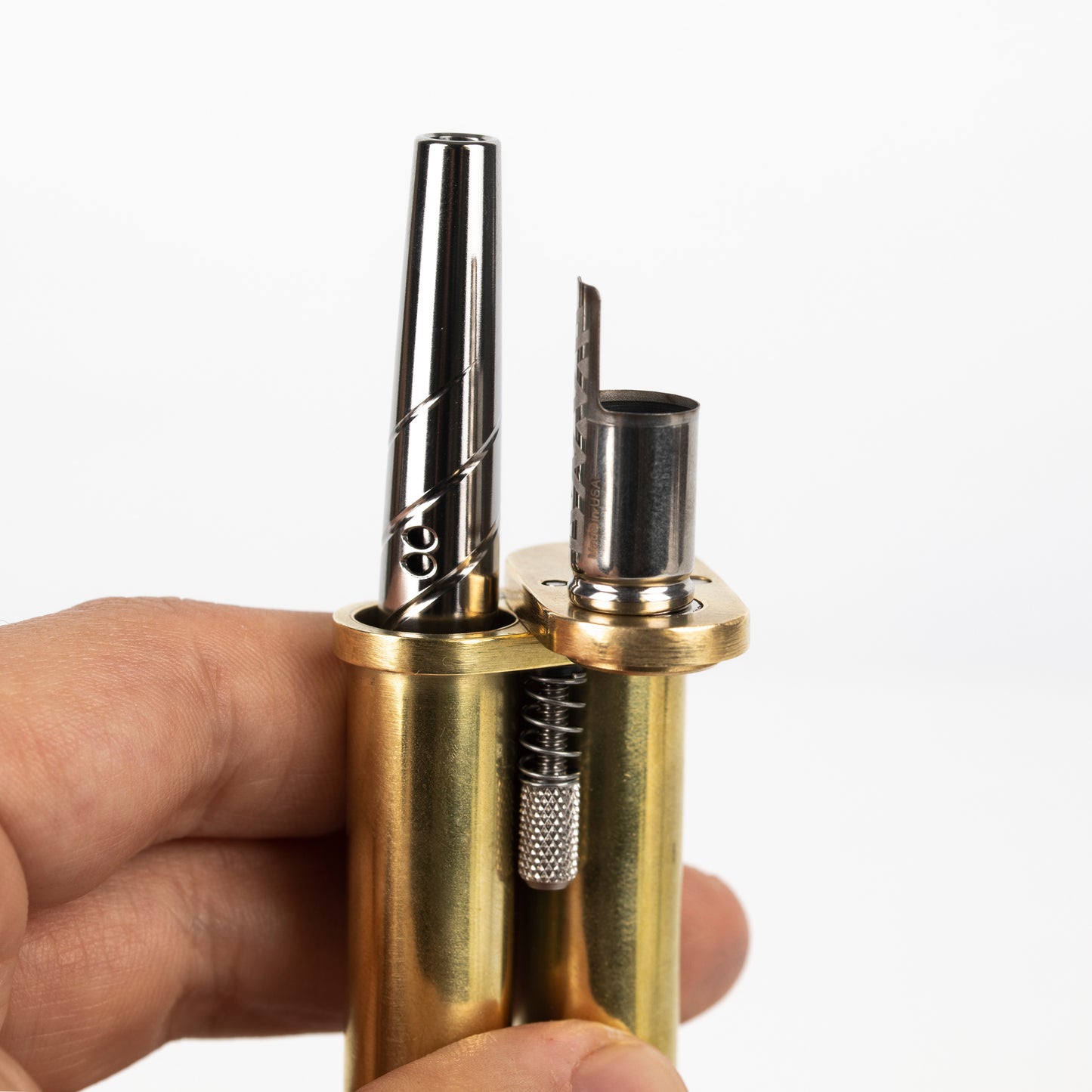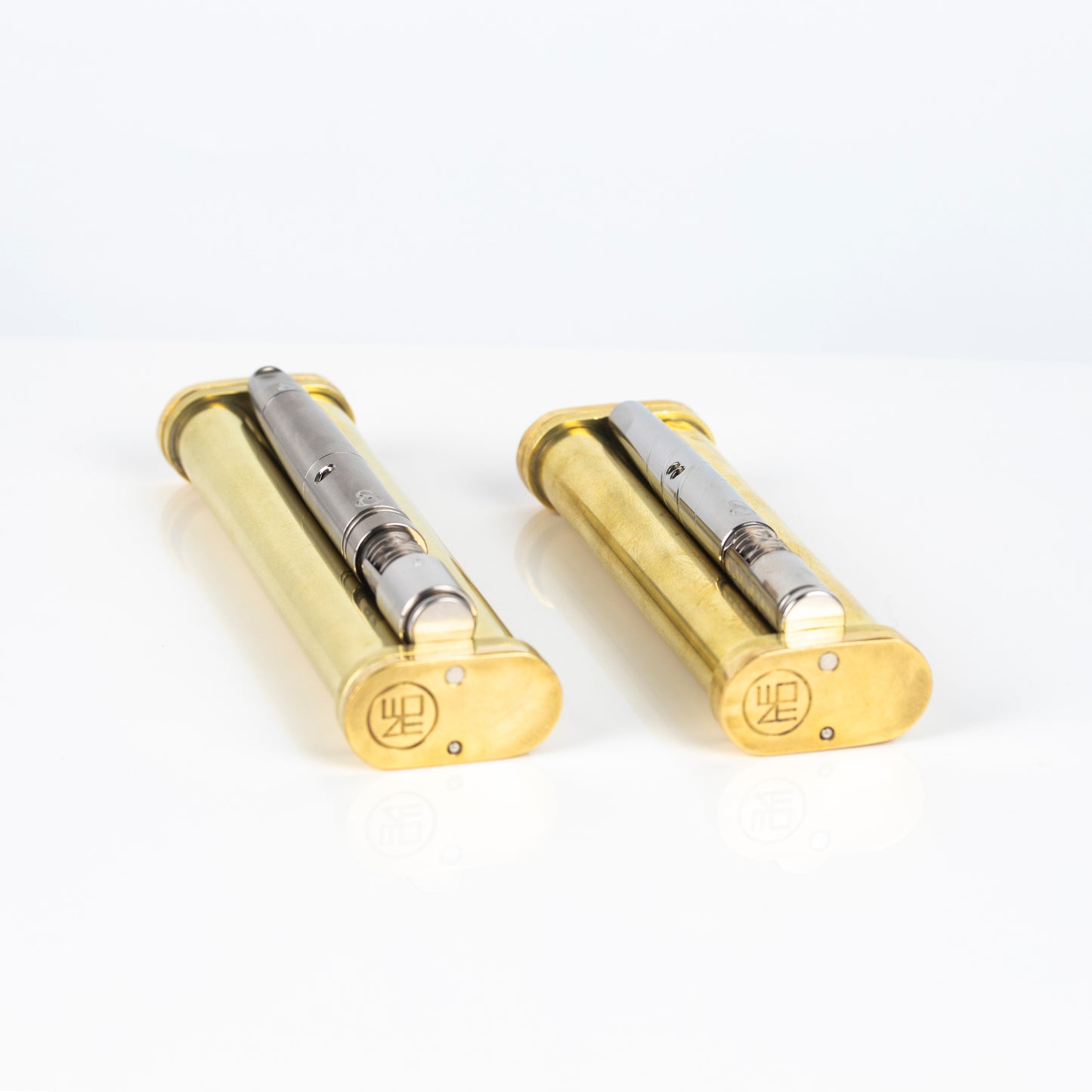 Simply Sophisticated.
The Simrell Collection strives to fuse art with function without compromises.
Our products are built from medical grade titanium, with a philosophy of "simple sophistication." Expertly crafted with the consumer in mind.
The Vortex System
Our patented Vortex System has been thoughtfully designed to give you the most control of your airflow, while delivering a smooth, cool vapor experience.
Build Your Own
Free Shipping

Worldwide Shipping is on me with orders over $125

Designed & Manufactured in the USA

Made in-house and produced in small quantities for optimum quality control.

Patented Technology

Enjoy peace of mind with our satisfaction guarantee on our Patented Vortex cooling system and sleek modern design.